Interested in enlisting with Virtual Carrier Air Wing One?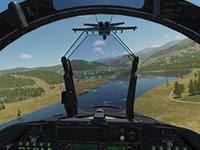 Before you take the plunge, please read through all the information on our site to be certain you're familiar with who we are, what we do, and the kind of online flight combat simulation group that we are. Just like any online simulation group, what we do might not appeal to everyone, but if you feel that we'd be a good fit for you we'd like to invite you to join us! The first thing to be aware of is that all pilots must go through our Training Program. We only have so many Instructor Pilots, however, so we only open recruiting when we have available positions for training - as such we routinely open and close recruitment as our recruits graduation and positions open or remaining slots are filled. If our recruitment is closed, you can be placed on a waiting list for the next available recruit position.
You can see our current recruitment status below:

Virtual Carrier Air Wing One is not just a flight combat simulation group - we consider ourselves to also be a milsim - or, military simulation - group as well. This means that we take what we do seriously, and follow real world NATOP and Naval procedures as much as possible. As a result there are a few requirements that we have for any prospective recruit to ensure that the experience they will have with us not only enhances their enjoyment of flying with us, but also that the Wing as a whole benefits from their membership as part of the group. These requirements include the following:
• A full HOTAS flight controls setup (i.e., flight stick, throttle, and rudder pedals)
• Head tracking hardware - TrackIR, VR, etc.
In addition, the following Eagle Dynamics Digital Combat Simulation modules are required:
If you have, or intend to purchase, these required modules, and our recruitment status is currently open, then you are ready to join us and get started! To do so, click the Register link in the upper menu and fill out the short form. In addition, create an account on our Forum - making sure to use the same preferred callsign you used when you Registered - and let us know the following information so we can get a better idea of who you are, your experience, and what you're looking for:
• Your location and / or Time Zone
• Your flight simualtion equipment (HOTAS or stick / throttle type)
• Your head tracking equipment (TrackIR, VR, etc.)
• Your flight simulation experience
• A little bit about yourself and what you're looking for in a flight combat simulation group
Once that's complete, one of our Administration team will get back to you as soon as we can with further information. If you have any questions about our process or about joining us, you can also use our Contact Us form to request an further information you need.
We look forward to flying with you!