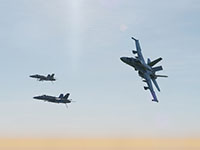 This page is where Virtual Carrier Air Wing One showcases videos that show us in action. As with our Screenshots page, these videos show us flying all sorts of missions - training, pick up flights, and campaign flights, and display us launching or trapping on the carrier, dropping bombs, shooting missiles, formation flying, tanking, and any other activity we capture ourselves doing on video.
Videos will be regularly added to this page as we continue to capture and publish them, so be sure to come back regularly to see what we're doing!
In addition, just as a point of note, since we also capture radio communications while filming these videos, be advised that some profanity or locker room talk should be expected.